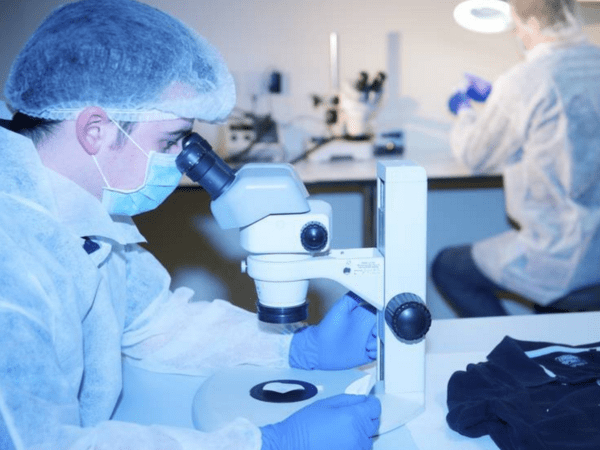 Forensic Science Careers
Have you ever enjoyed watching an episode of "Bones" or "CSI"?  In real terms, a forensic scientist is the one examining evidence at a crime scene to determine the critical aspects of an event during a defined period of time.  That being said, a "forensic scientist" job title does not refer to one specific job description but rather a wide field of different disciplines which all use science to apply them to criminal and civil laws.
Whether you're willing to get down and dirty or prefer a quieter, more staid position, forensic science is a very diverse field of study with a variety of vocational paths.  In terms of work, a forensic scientist might work in a lab or travel to crime scenes to collect evidence.
In addition, forensic scientists of all disciplines may elect to work as an expert witness during court trials.  While your life as a forensic scientist might not look like an episode of "Bones" every day, there is no doubt it can be an exciting field.
Forensic Scientist Requirements
A degree in forensic science is available from many universities.  Depending on the kind of job you're seeking in the forensic science field, a career in the forensic science field will often require a Bachelor's degree, at minimum.  People who are considering a job in the field may also find it helpful to study math, criminology, English, biology, and chemistry.
Students who pursue a forensic science degree can usually expect to take at least 36 to 40 hours of general education classes followed by 34 to 38 credit hours of natural science courses, which includes biology, chemistry, statistics, among others.  A forensic scientist will study crime scenes, learn about criminal law, and proper data collection techniques.
Earning an advanced degree such as a masters or doctorate in forensic science can be a tremendous help to open a variety of additional career options.  For example, if you objective was to secure a job as a research analyst or criminal psychologist you may want to consider earning a bachelor's degree in science or forensic science as a vocational pathway towards a doctorate program.  In addition to earning a college degree, forensic scientists are expected to spend an extensive amount of time training with a mentor and learning on-the-job whether they will end up working in a lab or at a crime scene.
Attributes of a Forensic Scientist
We have found successful forensic scientists possess the following core attributes:  detail oriented, bright, inquisitive, and willing to invest talents to solve crimes.  In addition to the core characteristics, a forensic scientist will need to be prepared to navigate non-traditional work hours and expect frequent travel to nearby jurisdictions.
Top Careers in Forensic Science
In terms of employment opportunities, there are many career options available for forensic science majors.  A forensic science technician aids the police department and law enforcement agencies with criminal investigations.  A forensic scientist is out in the field in the thick of a situation collecting evidence, analyzing evidence in the lab, and writing reports to help substantiate the facts of a situation.
A Bachelor's Degree in forensic science is typically required to enter the workforce for most states and municipalities.  On average, forensic science technicians earn about $56,000 a year according to the BLS and job growth in this field is expected to grow 27% through 2024 or roughly four times the national composite average for all jobs during that time.
A potential career path for a forensic scientist is a forensic ballistic expert which is the professional needed when a bullet needs to be traced back to a gun or a specific firearm needs to be identified.  Further, a forensic ballistic expert is a master of understanding how guns factor into a crime scene as they have experienced a wide variety of information about guns and bullets.  You will typically need a bachelor's degree in forensic science to gain entrance into this career and will be helpful to have an educational emphasis physics.
Another possible career path within forensic science is a bloodstain pattern analyst.  While initially off-putting to some, you will leverage science to analyze bloodstain patterns in an effort to determine what kind of weapon was used at a crime scene and recreate events to help solve crimes.
Other career paths available for a forensic scientist major may include a forensics documents examiner, a forensic toxicologist, a forensics accountant, a forensic computer analyst, or even a forensic anthropologist.  It is clear, the field of forensic science is growing rapidly and requires a wide variety of trained professionals to help solve a vast array of specific problems.
No matter which discipline you are personally inclined to pursue, there is sure to be a forensics discipline suitable for your personal proclivities.   Make sure to get in touch with your university's career department for more information on what you can expect out of a degree in forensics science or an associated career path.
Forensic Science Career Outlook
Forensic science is a very popular field and its popularity is only expected to grow over the next decade.  Competent forensic science majors are in high demand, especially as crimes become more sophisticated and focus on niche disciplines, such as forensic computer analysis.
Forensic science applicants should know that it can often be a very competitive field; however it may be helpful to specialize in a specific niche based your interest and prospective job demand.  It is not uncommon for students to choose to double-major in a natural science coupled with forensic science to be even more marketable after successfully completing your college degree(s).
While the forensic sciences encompass a wide range of different careers, you may also consider careers in the sciences, such as occupations in chemistry, biophysics, and a variety of other life sciences.  If you're interested in criminology but aren't sure if the forensic sciences are for you, consider a career in law enforcement, private investigations, or the medical field.
Why Choose a Career in Forensic Science?
The forensic sciences offer a diverse array of careers for people interested in a unique and forward-thinking profession.  If you're interested in becoming a forensic scientist, realize there is likely a specific niche that may be right for you. Consider a Bachelor's degree in forensic science along with an emphasis within a special discipline to help you land a job in your targeted niche in the forensic science field.   For additional resources, make sure to our forensic science degree portal or associations such as the AAFS to learn more about the industry.