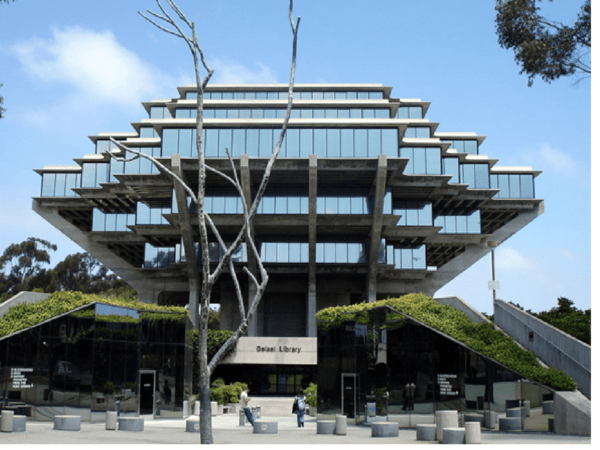 Libraries are a specially designated place for students to study.  The building itself can vary greatly – ranging from crowded and boxy to spacious and artsy.  Understanding the differences can have an impact on your college life if a library has the power to inspire a student to spend more time studying or inspire them in some way.  As a result of this impact a library can have on students, we have compiled a list of some great libraries at 4 year colleges around the United States that highlight both traditional architecture to modern marvels of construction.  As a sample check out the Geisel Library on the UC San Diego campus named after Theodor Geisel (better known as Dr. Seuss).
For many college students, the time spend in a library is substantial.  It can be the place where you study and gain confidence in your degree of choice.  A library can act as a meeting place between friends or it can be where you meet your future significant other.  Every library experience may be different but it will typically be a hub of the school to gather and share time & information.  Taking the time to visit a school's library may in fact be a tipping point in your decision-making process given the real and perceived importance of that particular building.  Check out the list below of the top rated libraries and schedule a school tour at schools that fit your overall criteria for future colleges.
The University of California – San Diego
The United States Military Academy
University of Wisconsin – Madison
Brigham Young University (BYU)
Methodology: At MatchCollege, we work diligently to provide quality information to help current and prospective college students best navigate the college landscape.  To that end, we use the following trusted sources of information throughout our website including: NCES, The U.S. Department of Education, Carnegie Classification, BLS, and the U.S. Census Bureau.  In order to be listed as a great school on the MatchCollege website, schools must qualify using a variety of scoring factors including: student-faculty ratio, tuition, graduation rate, financial aid, counseling services, loan default rate, acceptance rate, and the MatchCollege peer-based metric tool. 
For additional resources, make sure to visit MatchCollege and subscribe to our blog for the latest in college information.