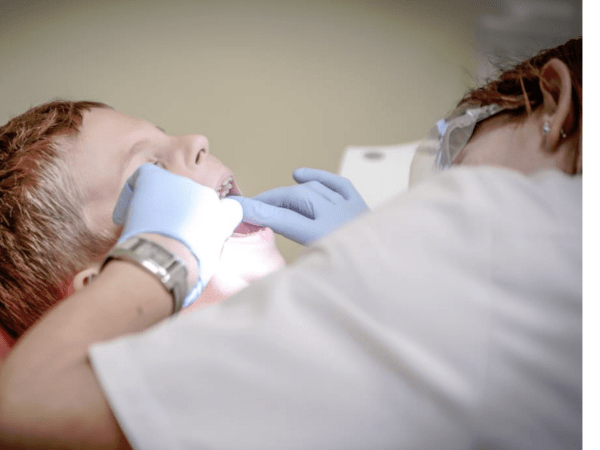 What is Dentistry?
The term dentistry comes from the Ancient Greek word related to odontology which is the study of the development, structure, and health of the teeth.  Dentistry, as it is practiced today, is a branch of medicine that includes:
Study, prevention, diagnosis, and treatment of issues relating to the oral cavity and oral mucosa
Interconnected health of related and adjacent tissue and structures
Maintaining overall health and proper mechanics of the maxillofacial area (face and jaw)
Diseases and disorders of the mouth
Overall health and body wellness
Dentistry consists of a team of specialists to help achieve the aforementioned objectives that include a dentist, dental hygienist, dental assistant, and dental lab technician.  A dental practice is most often a private practice but can also be located in a research facility, public policy administration, hospital, armed force base, or prison.
What are the Job Responsibilities of a Dentist?
The common job responsibilities of a dentist include the following duties and areas of expertise:
Diagnose and treat a patient's gums, teeth, and interrelated aspects of the mouth
Provide advice, counsel, and instruction to best care for overall oral health with specific attention to the teeth and gums given a patient's medical history and medical proclivities
Use latest equipment and techniques to examine the oral cavity, neck, and head to understand any systemic issues
Leverage radiographic and computer-based imagery to identify diseases of the gums, bone, and tissue in the oral cavity along with head and neck areas
Counsel patients on oral health tissue and oral health disease prevention methods
Replace and restore damaged teeth with implant technology along with bridge and crown techniques
Adjust misaligned teeth to enhance appearance and functionality of chewing, biting, and speech related issues
Provide corrective surgery on gums and bones in an effort to thwart gum disease
Surgical extraction of teeth
Pain mitigation related to disease, trauma, and related conditions
Manage and administer business operations
What are the Job Responsibilities of a Dental Hygienist?
A dental hygienist will provide advice, counsel, clinical services, and instruction to best care for overall oral health.  A dental hygienist can work in a private dental practice, community health care organization, hospital, clinic, prison, nursing home, school, faculty practice clinic, state government facility, federal government facility, and on an Indian reservation.
Depending on the work setting and geographic location, a dental hygienist may be responsible for:
Patient documentation and office management
Patient screening – oral health assessments, health history review, cancer screening, dental charting, blood pressure
Administering dental radiographs or x-rays
Removal of plaque and calculus from teeth
Application of sealants and fluorides
Creating of impressions of a patient's teeth
Providing oral health and nutrition counsel
Sharing proper oral hygiene strategies of flossing, brushing, teeth whitening
What are the Job Responsibilities of a Dental Assistant?
A dental assistant should markedly improve the efficiency of a dentist to provide quality oral health care visa via a variety of tasks.  In addition to working in a private dental office, a dental assistant may also work in a group practice, hospital, public health facility, education, military, dental manufacturer, dental supplier, and insurance company.  Job responsibilities of a dental assistant may include:
Assisting the dentist in a variety of treatment plans
Preparation of exam rooms
Sterilization or replacement of instruments
Provide patient education and nutrition counseling
Confirm and arrange patient appointments
Administer dental insurance claims
Help manage a variety of intra-oral functions
Perform lab procedures
Seamlessly integrate into the dental team
Administering temporary sedative restorations
Placing sealants and surgical dressings
Removing periodontal dressings, arch wires, and sutures
Taking impressions
Entering data into computer applications and CMS
Preparing teeth for fluoride and sealants
Providing emergency medical care as needed
Assessing patients health and vital signs
What are the Job Responsibilities of a Dental Lab Technician?
A dental lab technician blends the art and science of dentistry.  The art is in knowing that each restorative situation is unique to each patient coupled with a field of science that is rapidly evolving.  A dental lab technician will handle a wide variety of tasks, generally behind the scenes, to ensure things run smooth for the entire dental team.
In fact, restorative dentistry and orthodontics rely heavily on the skills of a dental lab technician.  A dental lab technician will work with a dentist to perform the following functions:
Create dentures for patients missing teeth
Remove partial dentures and fix bridges
Make crowns to help restore the function of a tooth
Create veneers to enhance aesthetics of teeth
Make orthodontic appliances and splints to straighten teeth
Replace damaged or missing tooth structures
Manipulate sophisticated dental instruments
Understand many specializations including implants, crowns, dentures, partial dentures, ceramics, and orthodontics
Common Dental Treatments
The most common dental treatments are aimed at addressing two primary types of oral health: tooth decay and periodontal disease.  Within the context of periodontal disease and tooth decay, there are an array of treatments within dentistry that can include:
Restoration: bridges, crowns, fillings
Prosthetics: dentures
Endodontic:  root canal
Periodontal: gum therapy
Scaling and Root Planing: plaque removal and polishing
Extraction: surgically removing teeth
Examinations and Cleaning: scheduled check-ups and hygiene evaluations
Radiographs: x-rays
Dentists can also prescribe medications (sedatives, antibiotics, and approved drugs used in patient management) along with manage oral systemic health.  The concept of oral systemic health relates to the fact the oral cavity can be indicative of systemic disease such as cancer, diabetes, heart disease, and osteoporosis.
Educational Requirements of Dental Professionals
Dentist: A dentist must have either three years of undergraduate work or bachelor's degree followed by four years of dental school.  A student can select either a Doctor of Dental Surgery (DDS) or a Doctor of Dental Medicine (DMD) track in dental school. The DDS and DMD programs are equivalent degrees conferred to students upon successful completion of similar types of programs.
Dental Hygienist: A dental hygienist must graduate from an accredited dental hygiene college or university and hold a license to practice in their state of residence.  While licensure for dental hygienists vary from state to state, generally a dental hygienist will have successfully completed an accredited program, passed the written NDHB exam, passed a state/regional clinical exam, and passed an ethics & jurisprudence exam.
Dental Assistant: In order to become a dental assistant, you will need to enroll in a postsecondary program such as a college, community college, vocational school, technical school, university, or dental school.  Graduates will receive a certificate and usually take less than a year to complete.
Dental assistant programs can be full time, part time, or offered via online through an accredited postsecondary institution.  Once you have your certificate, you will need to get certified.  There are several regional certification programs but the most common is a national certification through the DANB known as the Certified Dental Assistant (CDA) exam.  As will all licensure and certifications, consult your local state and municipality to ensure the proper tests are taken to ensure you are in good standing.
Dental Lab Technician: A dental laboratory technician will learn much of their specialized knowledge on the job.  Many dental lab technicians begin learning via remedial tasks and advance as applicable.  Typically, it will take several years to become a fully trained dental lab technician depending on aptitude and ambition.
Dental laboratory technician programs are available through community colleges, vocational colleges, junior colleges, and military installations.  To find schools near you, visit our dental laboratory technician page.
Most Popular Dental Careers
After obtaining the necessary credentials to become a dental professional, additional training can be taken to specialize in differing aspects of dentistry.  The training and certification process will vary from state to state and region to region depending on the governing body.
Specialties within dentistry can include the following: endodontics, dental public health, oral medicine, orthodontics, conservative dentistry, forensic odontology, geriatric dentistry, special needs dentistry, veterinary dentistry, oral and maxillofacial pathology, oral biology, oral and maxillofacial radiology, oral implantology, pediatric dentistry, oral surgery, prosthodontics, and periodontics.
Compensation and Job Outlook in Dentistry
The job growth for dentists in the United States is estimate to grow 18% through 2024 which will add nearly 27,000 jobs to the economy.  The median income for a dentist is $158,310 according to the BLS published information.
In addition to working in a clinical practice, a dental hygienist will have career opportunities that span different sectors such as education, sales, marketing, research, public health, government, and healthcare administration.  According to the BLS, the job growth in the United States for a dental hygienist is estimated to swell 19% growth through 2024 adding over 37,000 jobs.
This represents a growth 170% faster than the national average composite growth rate for jobs through 2024.  The median income for a dental hygienist is $72,330 according to the latest published data by the BLS.
Once you have earned your certification as a dental assistant, you can expect a robust job growth for the foreseeable future.  In fact, job growth for a dental assistant is estimated to grow 18% 2024 which equates to nearly additional 60,000 jobs during that timeframe.  The median income for a dental assistant is $35,980 per the published BLS data.
The estimated job growth for a dental laboratory technician is 10% through 2024 adding nearly 10,000 jobs.  The median income for a dental lab technician is $33,950 according to the latest published data from the BLS.
List of State Dental Boards
For additional resources, make sure to visit MatchCollege and subscribe to our blog for the latest in college information and updates in the dental industry.