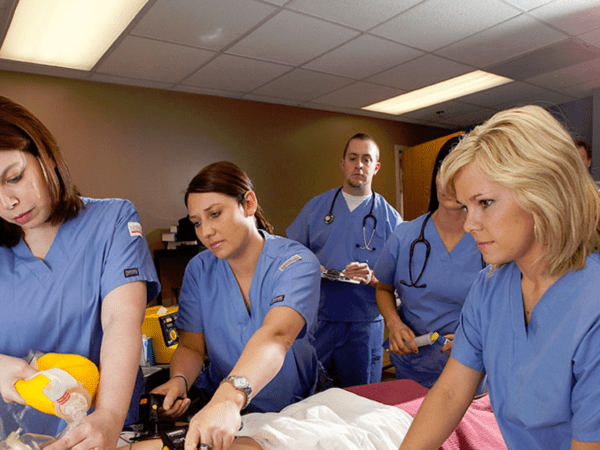 Complete Nursing Career Guide
Students interested in a career in nursing have a sea of options available to them.  In fact, there are so many options it may seem overwhelming to some prospective nursing students.  Fear not! We have put together this guide to help you successfully work through various nursing degree programs, types of nursing schools, and frequently asked questions.
After being able to thoughtfully read through your career alternatives, accredited schools, financial aid options, and common questions about nursing you will be able to align your goals and priorities with college offerings to make the best choice for your future.  Let's get going!
Most Popular Nursing Degrees
The most popular degree in nursing will wholly depend on the area of specialty and your specific geographic location.  As such, we have provided a detailed look at a variety of nursing degrees and certificate programs to help you navigate your career options efficiently.  We will start with certificate programs, move to undergraduate nursing degrees, and finish with graduate degrees in nursing.
Nursing Certificate Programs
A certificate in nursing is a three-pronged career path resulting in a future as a Certified Nurse Consultant (CNA), Licensed Vocational Nurse (LVN), or a Licensed Practical Nurse (LPN).
CNA certification courses can range in length from a six-month program to an 18-month program combining classroom instruction with hands-on clinical training.  The CNA certificate program is available at a community college, vocational school, and a variety of accredited training institutes.  A certified nursing assistant track will provide you with direct interactions with patients under the supervision of an RN, LPN, and/or LVN.
Both an LVN and LPN provide basic nursing care for patients under the direct supervision of registered nurses (RN) and/or doctors.  Licensed practical nurses and licensed vocational nurses can work in nursing homes, extended care facilities, physician's offices, hospitals, and/or private homes.  In most cases, the LPN and LVN acronyms can be used interchangeably with exception of qualification for professionals in California and Texas.
Nursing Associate Degrees
There are four primary types of associate degrees we will discuss in this career guide that include: Associate Degree in Nursing (ADN), Associate of Science in Nursing (ASN), Associate of Applied Science in Nursing (AAS), and Associate of Nursing (AN).
Associate Degree in Nursing (ADN) is essentially the entry-point for a student looking to enter the field as a nurse in the United States. To become an ADN, students must successfully pass an accredited, board approved program followed by successfully passing the NCLEX-RN test.  As a side note, all nurses are individually credentialed through their state nursing boards upon completion of a board-approved college program and passing the NCLEX-RN examination.  Although each state determines the length of the program, most ADN programs can be completed in two years.
The Associate of Science in Nursing (ASN) degree program is a two to three-year degree program depending on the college and state of residence. An ASN degree can be earned from a 4-year college or university, community college, vocational school, or some qualifying hospitals.  The ASN degree is geared to provide direct patient treatment along with an array of responsibilities within the health care field.
An Associate of Applied Science in Nursing (AAS) track is created as a pathway for students to become a registered nurse (RN).  The AAS program is typically a two-year program that fuses classroom learning with clinical experiences and lab practica.  A sampling of courses expected while taking AAS coursework include: biology, anatomy, pharmacology, healthcare administration, biochemistry, physiology, and microbiology.
The Associate of Nursing (AN) program is often a two-year program with prerequisite courses such as English, math, physiology, and anatomy that can stretch the program to three or more years.  The AN program is yet another educational track to a career as an RN and serves as a vital connection between patients and doctors.
Nursing Bachelor Degrees
Options for a bachelor's degree is most often known as the Bachelor of Science in Nursing or BSN.  Although infrequently used, The Bachelor of Science in Nursing degree is also known as a BScN degree, Bachelor of Nursing (BN), or even Bachelor of Science (BS) with a major in Nursing.
The BSN degree is designed to encompass four years' time with a focus on career development and graduate studies.  A typical BSN track includes course work in leadership, science, research, statistics, biology, healthcare administration, community health, and environmental health along with general studies in subjects like philosophy, physics, creative writing, and history.
The overarching goal of the BSN degree program is to prepare students to sit for the NCLEX examination.  Colleges and universities offering BNS programs have pre-licensure baccalaureate nursing programs for students with no prior nursing experience along with programs for students with no prior college experience.
Many accredited colleges offering BSN programs have created accelerated degree programs for students that have already earned a bachelor degree in another field of study.  Accelerated degree programs in of this type are often known as Second Degree Nursing programs.  A second degree program can run from twelve to eighteen months to earn a bachelor degree and closer to three years for a master's degree.
Bridge programs are highly important to nursing professionals.  A bridge program is a degree created by accredited higher education institutions for the benefit of professionals who have already earned a degree that seek additional credentials.  The motivation to earn additional credentials are typically rooted in career advancement, earning power, job stability, and other professional opportunities.  A sampling of nursing bridge programs include the following:
| | |
| --- | --- |
| BSN to DNP | LPN to RN |
| BSN to MSN | RN to BNS |
| LPN to BSN | RN to DNP |
| LPN to MSN | RN to MSN |
Nursing Master Degrees
Accredited colleges and universities offering a Master of Science in Nursing (MSN) offer specialization for those seeking to propel their careers forward through advanced clinical training and academic mastery.  A professional may choose to leverage an MSN degree to become a certified midwife, clinical specialist, certified anesthetist, or nurse practitioner.  As an example of specialties, a nurse practitioner can specialize in the following: geriatric, family, adult, pediatric, emergency, cardiology, nephrology, neonatology, oncology, primary care, women's health, and school health.  Examples of non-clinical tracks for students earning an MSN degree include: nurse educators, managers, administration, leadership, and teachers.
Nursing Doctoral Degrees
The Doctor of Nursing Practice (DNP) is the highest degree that can be earned in nursing known as a terminal degree.  The typical DNP curricula builds upon the master-level curricula by extending learning in systems leadership, quality healthcare practices, and empirical data.  It is important to know many accredited universities have constructed the Doctor of Nursing Practice program to run parallel with a variety of related healthcare doctorate programs such as dentistry, medicine, pharmacy, and psychology.
The other doctoral degree track within nursing is the PhD program.  The goal of the PhD track is to adequately prepare nurse scientists with skills and knowledge in non-clinical careers.  Examples of non-clinical careers for PhD holding nurse scientists may include nursing education, research, and healthcare administration.  In other words, the PhD degree track is rooted in research-intensive environments while the DNP program is an immersion experience in practice.
Top Nursing Careers
Clinical Nurse Specialist
Job Description: A CNS works in a hospital, medical office, health care facility, & clinic providing consultation and direct patient care.  A CNS is often involved in facility administration, research, and education.
Career Options: Pediatric Clinical Specialist, Critical Care Clinical Specialist, Cardiothoracic Clinical Specialist, Clinical Wound Specialist, Clinical Liaison, Post-Acute Clinical Navigator, Clinical Administrator.
Registered Nurse
Job Description:  At its most basic level, an RN is a general care nurse that works to prevent illness and to promote good health.  An RN must be astute at asking questions to properly assess problems and knowledgeable as they work to develop care plans for patients.
Career Options:  Charge Nurse, Staff RN, Operating Room RN, Travel RN, Manager, Intensive Care Unit RN
Nurse Practitioner (NP)
Job Description:  NP's carefully diagnose, assess, and treat patients for a variety of ailments.  They can prescribe medication in most states, perform health screenings, and treat various illnesses and injuries.
Career Options: Pediatric NP, Midwifery, Neonatal NP, Family NP, Oncology NP, Geriatric NP, Psychiatric NP, Clinical NP, Chronic Pain NP
Oncology Nurse (ON)
Job Description:  ON's work with patients suffering from cancer.  They care and educate patients in remission as well as those undergoing treatment for cancer.  ON's carefully monitor patients, prescribe medication, manage symptoms, and assist in radiation therapy & chemotherapy treatment.
Career Options: Oncology Certified Nurse, Certified Pediatric ON, Advanced Oncology Certified NP, Instructor, Palliative Care Consultant, Patient Care Team Manager, RN Oncology, RN Medicine
Pediatric Nurse
Job Description:  Pediatric Nurses work with patients from birth to adolescence.  They guide patients and families on best practices to avert disease, illness, and infection as well as promoting proper nutrition.
Career Options: Maternity, RN in Pediatric Medicine, Pediatric Diabetes Nurse, Manager, Critical Care Pediatrics
Gerontology Nursing
Job Description: Gerontologists blend health care with social science, psychology, and behavioral science.  Professionals focus their energy to care for older patients with needs ranging from physiological changes to chronic diseases.
Career Options:  Adult-Gerontology Practitioner, Adult-Gerontology Clinical Nurse, Adult-Gerontology Acute Care Nurse
Primary Care Nurses
Job Description:  Primary Care Nurses work with a specific patient for an extended period.  A PC may work in a hospital, clinic, or in-home care environment for private patients.
Career Options: Primary Care, Practitioner, Primary Care Clinic, Primary Health Care, Restorative Health Coordinator
Dialysis Nurse (DN)
Job Description:  A DN help treat patients suffering from kidney failure to help the kidneys function again. The DN specialization is part of a broad area of study known as nephrology which involves the care and study of kidneys.
Career Options:  Travel DN, Dialysis Charge Nurse, Hemodialysis, Inpatient DN, Office RN
Public Health Nurse (PHN)
Job Description:  A PHN is a highly specialized field of study that helps communities learn about disease prevention and treatment.  Armed with a broad array of knowledge about aging, development, and parenting a PHN coaches and counsel's patients in a variety of settings.
Career Options: PHN, Patient Care Manager, Occupational Health, Public Health Instructor, Community Health
Informatics
Job Description:  Informatics is a field of study related to the efficient and effective use of health care information and the communication of that information.  Nursing informatics blends health care with computer science and information science to better manage information for the benefit of patients and the health care facility.
Career Options: Nursing Informatics Specialist, Informatics Consultant, Clinical Analyst, Clinical Informatics Coordinator, Informatics Manager, Director of Clinical Information, Informatics Researcher, Informatics Faculty
Cardiac Nurse (CN)
Job Description: CN's are a specialized group that works with patients who suffer from heart problems. A CN works under the direct supervision of a cardiologist and assist with a range of heart conditions from coronary artery disease to congestive heart failure.
Career Options:  RN Cardiac Critical Care Unit, Geriatric Emergency Management, Associate Director of Care, Intensive Care Unit RN, Surgical Ambulatory Care
Emergency Room
Job Description:  Working in the ER is a fast-paced, high stress environment for any professional.  For an ER Nurse, they are required to quickly assess and treat patients ranging from the benign to life threatening variety.
Career Options:  Emergency Care, Geriatric Emergency Management, Emergency Room RN, Pediatric Emergency, Clinical Supervisor in Emergency, Emergency Mental Health Crisis Unit
Practical Nurse (PN)
Job Description:  A PN or LPN is trained to in similar practices to an RN and can manage health assessments, injections, and medication administration.  A PN works under the direct supervision of an RN and is not certified to manage the same suite of activities as an RN.
Career Options: PN, LPN, Home Care, Rehabilitation Unit, Continuing Care Assistant
Forensic Nursing
Job Description:  Forensic Nursing is a newer field of study fusing health care with law.  The range of responsibilities can range from inmates in prison to victims of violent crimes to legal testimony evidence.
Career Options:  Youth Forensic Services, Forensic Community Liaison, RN Forensic Psychiatry, Forensic Nurse Supervisor, Sexual Assault Forensic Examiner, Forensic Nurse Examiner, Sexual Assault Clinician, Medicolegal Death Investigator, Emergency Room, Law Enforcement Specialist
Geriatric Nurse
Job Description:  Specialists that work with patients over 50 years of age.  Geriatric nurses care for patients by easing pain, hygiene assistance, routine assessments, and general treatment plans.
Career Options:  Clinical Specialist, Adult Outreach, Geriatric Community Mental Health, Geriatric Emergency Care Management
Travel Nurse
Job Description:   A Travel Nurse works in various settings for short intervals performing a wide variety of tasks.  Duties can vary depending on the needs of the facility and patients thereby ensuring a diversity of duties from day to day.  Daily tasks are highly important to keep a facility running efficiently yet rarely critical, life-saving activities.
Career Options: Endless options in various sub-disciplines including ER, ICU, Oncology, Dialysis, Neonatal, Perioperative.
Adult Health Nurse
Job Description:  Adult Health Nurses work with patients of all ages with acute and chronic illness or diseases.  Some AHN professionals create long-term care plans for patients while others support treatment plans through a variety of methods.
Career Options:  Adult Primary Care Practitioner, Translational Care, Clinical Leader, Director for Clinical Services, Clinical Research RN
Endoscopy Nursing
Job Description:  Endoscopy Nurses work with an endoscope team within a hospital to understand and assess problems within the genitourinary or digestive system.
Career Options: RN in Endoscopy Unit, Perioperative Specialist, Ambulatory Specialist, Endoscopy Lab Technician, Endoscopy and Radiographic RN, Ambulatory Surgical Unit
OB GYN
Job Description:  An OB GYN Nurse is a specialist working to treat and understand the female reproductive system.  The acronym OB GYN stands for Obstetrics and Gynecology as it blends the two disciplines.
Career Options:  RN, Maternal Home Visit Specialist, Perinatal Unit, Manager, Lactation Consultant RN, Project Director, Midwife, Doula, Ultrasound Technician
Best Nursing Schools
There are 3 primary types of nursing schools to select from including Vocational or Trade Schools, Community Colleges, and 4 Year College or University.  Each type of school has important value to offer students and worth considering for your future.  We have created a succinct overview of each to help you best determine what type of school is best for you.
Trade School or Vocational School
A Vocational or Trade School offer specific job-readiness training for students.  These types of schools create curriculum to ensure students receive skills focused on a specific trade or vocation and is seen as an efficient path to the work force in terms of both time and tuition invested.   Generally speaking, a Vocational or Trade School will offer individual courses in practical nursing along with an array of programs for nursing assistants.  In addition, there are a large number of Vocational or Trade Schools that offer certificate programs for nurses.
Community College
A Community College will offer a two-year program with a direct path to an associate-level degree.  The Community College model allows students to more rapidly move towards a degree than a four-year school while gaining a valuable education within an accredited institution resulting in faster access to the workforce.  By in large, the most common nursing program within the Community College system is the Associate of Science in Nursing (ASN).  Another popular path for students attending a Community College is a vocational program for those seeking a certificate as a Licensed Practical Nurse (LPN).
Four-Year University & College
A 4-year College or University offers the most comprehensive, in-depth educational option for students.  In addition to core nursing programs, students will often spend time learning about adjacent subject that help them become well-rounded and curious learners.  A four-year University or College will offer an array of programs from a Bachelor's of Science in Nursing (BSN), bridge programs, accelerated programs, second degree programs, and doctoral studies in clinical and non-clinical tracks.
Frequently Asked Questions in Nursing
Is it better to enroll in a traditional classroom program or online program in nursing?
The short answer is that it depends.  Your goals, aspirations, schedule, budget, timing, geographic location, priorities, work life, family constraints, transportation, learning style, and study habits will help determine your answer.  Traditional classroom settings and online programs can both be viable alternatives for college students.  You will need to thoughtfully assess which path is best for you.
How important is college accreditation? 
Enrolling in a college holding a nationally recognized accreditation can make all the difference to your career and your future employer(s).  It is recommended to search for colleges and universities with accreditations from the Commission on Collegiate Nursing Education (CCNE) and/or the Accreditation Commission for Education in Nursing (ACEN).
 Would you recommend talking to current students or recent graduates?
Yes, we highly recommend you reach out to the college or university to request an opportunity to speak with 2-3 current or former students.  A quick conversation with a peer can illuminate vital aspects of your desired program in ways an administrator or counselor cannot articulate.
Do I need to pick a nursing degree program or certificate path before starting?
Not necessarily but it will be a more efficient use of time and resources knowing a program in advance.  So long as the college or university has a variety of degree paths, you can select a specific degree or certificate later.  The inherent risk of starting a program without deciding upon a specific degree is the school may not offer the exact program you want after learning about your options.
What are critical metrics for nursing programs?
There are many metrics you can look at when analyzing similar programs - from enrollment numbers to acceptance rates to tuition costs.  As you assess differing programs, a vital measurement tool will be to obtain the school's NCLEX pass rates.
Are all clinical rotations basically the same?
In short, clinical rotation sites can vary from city to city and state to state.  As you gather information about clinical rotations ask the following types of questions: do schools arrange rotations or do students; how to complete clinical requirement for online students; and how diverse are clinical opportunities in a variety of settings.
How important are student to teacher ratios?
The efficacy of student to teacher ratios can vary from school to school and have a divergent impact on your experience depending on your learning style(s).  The lower the student to teacher ratio the more one-on-one time can be made from professors, practitioners, and clinicians.
Can my academic resume help me get into a great nursing school?
Improving your odds of admission to quality programs will depend on several factors including your academic resume.  The more science classes (such as chemistry, microbiology, anatomy and physiology) and more humanities classes (like creative writing, English composition, sociology, psychology) the better your odds.
What other factors can improve my odds of admission?
In addition to a strong academic resume, important factors to consider as part of your college application can be: grades, life experience, work experience, personal character, leadership positions, volunteer activities, solid interview skills, attention to detail, professional network, robust writing skills, exceptional communication ability, and professional appearance.  In other words, being a well-rounded student is far more important that simply having great grades.
What are the most important skills a nursing student will learn in college?
The answer we hear most often from professionals is two-pronged: medical knowledge and people skills.  The medical knowledge component boils down to book smarts.  Going to class, learning the basics and continuing to be eager to learn new material.  Much like academic knowledge, people skills can also be learned.  Developing exceptional interpersonal skills will take a great deal of practice, empathy, and mindfulness.
How important is the education and clinical experience of the professors and faculty?
The success or failure of nursing programs around the country depends on the faculty.  A highly engaged, qualified staff will have a higher success rate than other teaching teams.  When analyzing great school for you, make sure to ask about professor pedigree, teaching experience, tenure, work experience, published works, and accessibility to students.  These questions will help you paint a picture of the institution and their faculty.
Financial Aid for Nurses
Financial aid can come in several different forms and you must be diligent about creating the best package.  We will discuss various terms and offer resources to help you navigate the financial aid process.  In nearly every case, you will want to complete a FAFSA to pair with the options discussed below.
Scholarships:  A scholarship is an award for college that does not need to be repaid.  Scholarships can be based on merit, gender, need, ethnicity, geographic location, religious affiliation, athletic ability, honor organization, academic major, military affiliation, race, artistic ability, physical disability, state of origin, and student organization to name a few.
Grants: A grant, like a scholarship, is free money that does not need to be repaid.  Unlike scholarships, grants are most often based on student need. In addition to state-based grants or school-specific grants, you may want to consider researching Federal Grants for nurses, organizational grants (AANP, APNA, AACN), military grants (ROTC, Navy, VA Yellow Ribbon Program)
Fellowships: A nursing fellowship is a short-term learning opportunity focused on professional development sponsored by a school, hospital, clinic, or government organization.  Fellowships are most often associated with graduate school often involving hands-on learning, specialized classroom time, and exclusive academic programs. Students are paid salaries or through a stipend for participation in the fellowship.
Internships:  An internship or nursing residency are often paid positions for graduate or undergraduate students.  An internship or residency can last a few weeks to a year depending on the program and area of emphasis. These programs will help students offset the cost of college in conjunction with other financial aid.
Student Loans: Unlike grants and scholarships, a student loan needs to be repaid.  Loans can be from private institutions or from the federal government depending on your specific situation.  Exceptions to the rule of repayment include loan forgiveness programs like the NURSE Forgiveness Program, Perkins Loan Cancellation, State Forgiveness Initiatives, and Public Service Loan Forgiveness Program.
Top Nursing School Resources
Nursing Schools Near You
To find the best nursing school for you, we have created a number of resources for you.  The first is a search tool that allows you to target traditional college programs by inputting important criteria given your personal priorities.  Next, we have online college and degree programs available for all accredited colleges that offer nursing programs to be discovered.  Lastly, we have organized nursing schools by state to help you find a top ranked nursing college to fit you best.
Why Choose a Nursing Career?
At the end of the day, the choice to become a nurse is a personal choice.  Individuals looking to help others with an aptitude for problem solving and ample compassion may thrive in the healthcare industry.  Learn more about critical care nursing, midwifery, palliative care nursing, pediatric nursing, nursing education and much more with our expansive digital library.  For additional resources, make sure to visit MatchCollege and subscribe to our blog for the latest in college information.