See a list of Landscaping Programs by Clicking Here!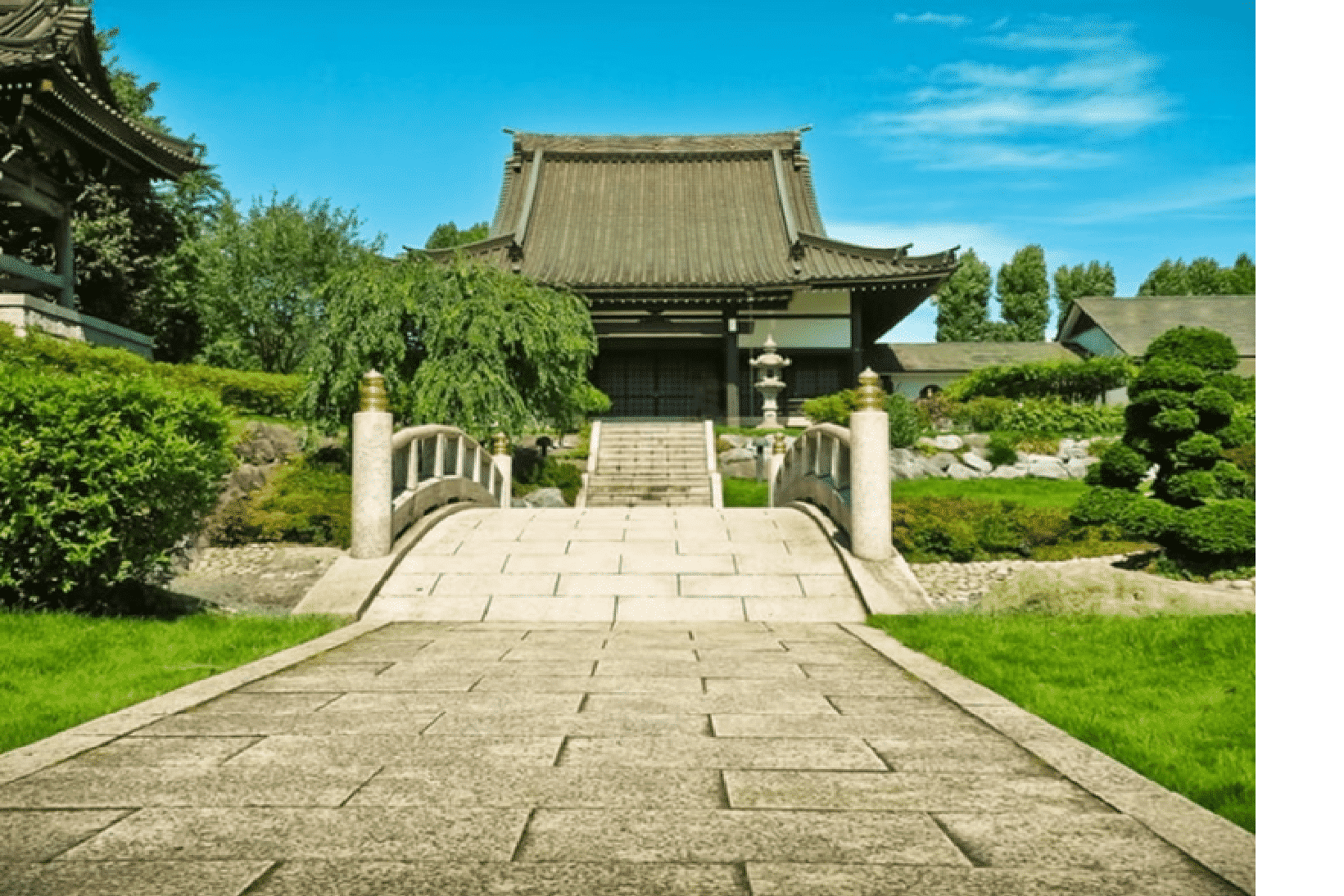 What is Landscaping?
Landscaping is an area of study emphasizing the operations, design, resource management, scheduling, and labor involved in managing the appearance and growth of bushes, plants, terrain, structures, and groundcover.  The five essential elements of landscaping involve aesthetics, symmetry, and functionality.
Forms - A form is a plant or structures given shape and size.  Forms are intended to blend in or stand out from a designated design theme.  As an example, an informal garden will have free-flowing forms that appear naturally occurring versus a manicured, formal garden.
Textures - Landscaping texture is associated with a plant or hardscape appearing smooth, heavy, course, or light.  A fruit trees leaves, branches, flowers, and bark all have texture.  Plants, bushes, and shrubs with varying textures add variety to a yard or garden.
Scale - The scale of a landscape design is the quotient between sizes and elements of a yard.  Scale is also a consideration given the size of a garden, home, and neighborhood as they are all relational.
Coloration - The coloration of plants, shrubs, and hardscapes can bring a design to life.  In landscaping, color can be used to accentuate features, create mood, create contrast, provide seasonality, and draw disparate elements together.
Lines - Vertical and horizontal lines can be implemented in landscaping to break up objects, create symmetry, and make spaces feel larger.
Why Earn a Landscaping Degree?
Landscaping degree programs can help students think more formally about the trade.  A college degree in landscaping will prepare students for the challenges of day-to-day operations, seasonality, time management, and resource terminology.  A formal education can also help prepare student for a variety of commercial and residential jobs.  Translating academic knowledge into a finished product will take time, effort, and training.
A landscape major will garner both practical experience and academic knowledge to be used after school.  Skills learned while in school will be industry-specific and customer-centric.  Skills learned in school to help connect with customers include: active listening, communication skills, customer service, non-verbal communication, accurate documentation, and time management.
Business skills you will learn in a formal landscaping degree program will include several key classes and projects.  Popular landscaping classes you will find in college degree programs include: gardening management, horticulture, turf management, project management, soil management, plant maintenance, site safety, equipment operation,  personnel management, resource management, construction documentation, cost control, loss mitigation, scheduling, business insurance, bid strategies, bonding, state laws, local regulations, and financial accounting.
What Do Landscape Managers Do?
Professional landscape managers and landscaping personnel are charged with the proper maintenance of property grounds.  Through the use of hand tools and power tools, landscapers may be contracted to perform a wide variety of tasks.  Jobs associated with a general landscape job may include the following: mowing, planting, sod laying, trimming, digging, watering, fertilizing, raking, building masonry wall units, and sprinkler installation.
Top Landscaping Degrees
For those considering a future in the landscape industry, there are a number of paths to consider.  Some individuals will elect to leverage education while others may prefer on the job training.  Students seeking a formal education will find two primary programs of interest.
Certificate programs and undergraduate degrees are the two most popular programs for students to consider at the college level.  Below we have summarized each to help you find the best program for you and your career in the field.
Landscaping Certificate Programs
A certificate program in landscaping is designed to be a focused program in this field of study.  Some certificate programs can be completed in as little as six months while others will take upwards of two years to complete.
The variation in the programs will depend on the design of the course coupled with your course load and pace at which you complete the classes required to earn a certificate.   Online landscaping certificates may be earned from an accredited college or university to help work around your busy schedule.
Landscaping Associate Degrees
On-site and online associate degrees in landscaping can be earned from a number of higher education institutions.  Accredited colleges and universities build associate degree programs to include both general education courses and core classes to provide a well-rounded educational experience for students.  General education classes may include English composition, philosophy, economics, and psychology.
Core classes will vary from school to school but will include courses to help students assess customer needs, theory, design, site evaluation, project analysis, base plan preparation, presentation, budgeting, and materials management.  Associate degrees can be conferred as either an Associate of Science (AS) or Associate of Arts (AA) depending on the design of the program.
Landscaping Educational Requirements
The educational requirements to earn a degree in landscaping will vary by institution.  Some schools will require more science-bases classes while others will focus more on business.  Nonetheless, you will find a common set of classes across most college degrees in landscaping.  Examples of those common landscaping courses include:
Employment Specializations in Landscaping
Investing in a landscaping certificate or landscaping degree will open up opportunities for students.  Career paths can be for specific aspects of landscaping or for associated trades within the construction industry.  Examples of specializations in landscaping can include a variety of job choice such as: landscape architect, specialty contractor, cost estimator, budget analyst, project manager, general contractor, hardscape manager, and bark technician.  It is worth noting some career paths may require additional training and/or certification.
Top Landscaping Careers
Students interested in pursing a career in landscaping will need to know the wide variety of jobs and titles associated with this vocation.  In fact, the breadth of careers in the landscape industry spans beyond what most people envision as a typical landscape career.  Below you will find the most common job titles associated with the landscape vocation to help you understand the myriad paths available to pursue.
| | |
| --- | --- |
| Nursery Supervisor | Grounds Maintenance Specialist |
| Grounds Supervisor | Supervisor of Horticulture Services |
| Field Manager | Landscape & Horticulture Specialist |
| Golf Course Superintendent | Grounds Crew Supervisor |
| Landscape Contractor | Groundskeeper |
| Groundskeeper Supervisor | Landscape Specialist |
| Landscape Manager | Grounds Maintenance Worker |
| Nursery Manager | Groundskeeping Manager |
| Parks Supervisor | Landscape Gardener |
| Production Superintendent | Outside Maintenance Worker |
| Landscape Designer | Grounds Foreman |
| Horticulture Manager | Maintenance Supervisor |
| Gardener | Grounds Manager |
| Greenskeeper | Landscape Supervisor |
Landscaper Salary & Job Outlook
Landscaper salary is estimated to continue growing above average according to the latest studies by the BLS.  Currently, the mean average wage for landscapers is approximately thirty-thousand dollars a year and grounds maintenance workers at $35,000 a year.  Tree trimmers salary is just under $40,000 a year with pesticide applicators around thirty-seven thousand dollars a year on average.
The aggregate job growth projections in landscaping is estimated at 11% for the coming reporting period.  With nearly 1.5 million individuals employed in this sector of the economy, approximately 160,000 new jobs will be created in the coming decade.  Rapid growth in landscaping will create job opportunities and mobility to try new things in this field.