See a list of Speech Communication and Rhetoric Programs by Clicking Here!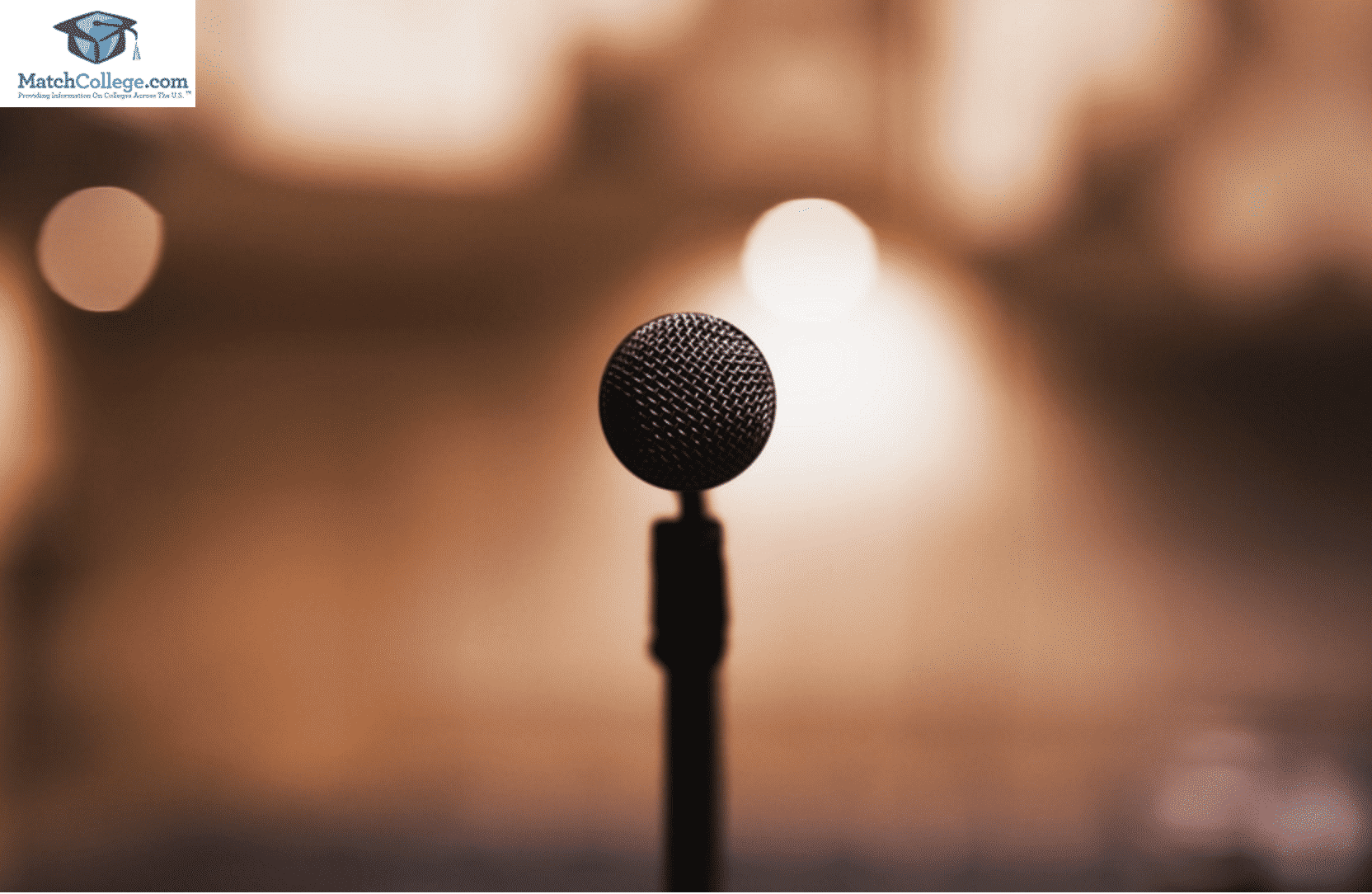 What is Speech Communication and Rhetoric?
Speech Communication and Rhetoric is a field of study emphasizing the art of discourse.  Rhetoric and speech communication, at large, is a medium that strives to inform, entertain, motivate, and/or persuade an audience. Pundits have often attempted to associate rhetoric with a political discourse while scholars employ a broad-based definition to include every aspect of culture including the following:
Natural Science
Fine Arts
Religion
Journalism
History
Digital Media
Architecture
Law
Politics
Cartography
Top Speech Communication Degrees
There are a number of degree paths in communication to help students understand the art and science of communications.  Programs range from a bachelor's degree, master's degree, and doctorate degree in communications.  We have detailed out each type of degree in speech communications to help you decipher which path is best for you.
Bachelor Degree in Speech Communication
A bachelor's degree in speech communication is a 4-year program that will provide students with a foundational academic baseline regarding key aspects of communication.  Domains you will learn will include interpersonal communication, organizational communication, persuasion, media, marketing, advertising, argumentation, integrated communication, strategic relations, and crisis communication.
You will be required to invest time organizing, researching, and preparing for speeches regardless of whether you earn your communications degree online or in class.  By studying the art of speeches, students will understand the finer points involved with tone, inflection, pace, idea linking, and delivery of speeches.  Classes that may be included in an online bachelor's degree in speech communications may include:
Media Writing
Public Speaking
Interpersonal Communication
Motivational Speaking
Creative Problem Solving
Communication in the Marketplace
Communication and Diversity
Storytelling
Event Planning
Human Communication and Technology
Communication Theory
Rhetorical Theory & Criticism
Master Degree in Speech Communication
The master's degree track in communications can be either a MA or MS.  An MA is a Master of Arts in Communications while a MS is a Master of Science in a specific discipline like Communication Disorders or Integrated Communications.  A master's degree in communication is a 1-2 year program designed to help prepare students for advanced opportunities in the workplace.  Upper level classes found in a master's degree program may include:
Leadership Communication
Communication Research
Communication Praxis
Problem Solving & Collaborative Communication
Persuasive Reasoning
Event Planning
Professional Communication
In addition to the courses required to earn a master's degree in communications, a student must invest substantive time to prepare, draft, complete, and defend a thesis project.  Students will work closely with an advisor to select a thesis topic and establish milestones towards completion.  Master's degrees in communications are offered online and on-site depending on the college or university coupled with your learning preference.
Doctorate Degree in Speech Communications
A doctoral degree is offered in Communications as a PhD program.  A PhD in Communications is a 2-3 year program depending on the number of credit hours taken at a time after meeting all program prerequisites.  The PhD program is most often coupled with an area of concentration such as intercultural communications, interpersonal communications, or organizational communications.  The overriding emphasis in a PhD degree in communications is to prepare students for a career in research in the higher education system or in private industry after graduation.
Educational Requirements in Speech Communications
In terms of educational requirements, Speech Communication and Rhetoric degree holders will have typically studied a variety of classes prior to earning their degree in this field.  While the classes will vary from school to school, you will generally find a set of core classes that include the following courses:
Employment Information & Speech Specializations
Communications majors earning a graduate or undergraduate degree with have valuable insights into the way we connect with one another.  This knowledge is a marketable skills that can be parlayed into a variety of specializations.  Examples of career specializations include media buyers, teachers, announcers, broadcasting, translators, interpreters, public relations, photography, editors, digital media specialists, technical writers, and reporters.  Each career type and industry can be further researched by sorting the most popular college majors in the United States.
Top Careers for Communications Majors
Communication majors will be eager to launch a career in a variety of sectors after graduating from an accredited college or university.  Graduates can find themselves working for private companies, non-profit organizations, government agencies, or public corporations.  Top career choices in communications include the following jobs:
Lobbyist
Research Specialist
Foreign Relations Manager
Advertising Manager
Sales Manager
Media Relations Director
Corporate Communications Manager
Labor Relations Specialist
Communications Teacher
Broadcaster
Public Relations Manager
Human Resource Manager
Communications Career Outlook
Speech communications jobs appear to be trending well above average.  Both the BLS and ONet organizations indicate a strong outlook in this learning domain.  Specifically, the expected rate of job growth for interpreters is expected to rise 29% through 2024 while technical writers will see a 7% employment bump.
The extremely broad nature of this field of study make it a challenge to provide specific career data.  Federal government agencies and private data aggregators provide substantive data on specific industries but not necessarily for broad-based employment areas such as this.  Income you will make in the field of communications will be a function of the job type, employment arrangement, locale, and work experience in the field.  All told, you will have a much better idea of a range of income after selecting a sub-discipline in a specific city with a targeted employer.
Additional Resources for Communication Majors
Students interested in learning more about the communications industry and being part of the cutting-edge changes, may consider becoming members of an association.  Non-profit associations provide resources, education, news, support, and benefits for professionals in this field of study.  Organizations worth researching include the National Communication Organization (NCO), the American Society for Journalists & Authors (ASJA), American Business Media (ABM), and the American Communication Association (ACA).